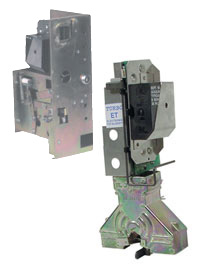 ET-Electronic™ Totalizer
Coin Mechanism

With few moving parts and retaining
K-JACK's self clearing and snap out capabilities, this is the most dependable electronic mechanism on the market today. When combined with the ability to accept all U.S. coins in any combination - pennies, nickels, dimes, quarters, half-dollar, dollar coins, Canadian Loonie and Toonie accepting all Canadian coins - and can configure foreign market coins. Accepting or rejecting slugs, has a battery life up to five years, and a temperature operating range of -40F to +140F, it becomes obvious this mechanism is without peer.