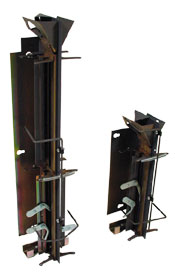 Mechanical Coin Mechanism

Our mechanical coin mechanism was designed with just two thoughts in
mind - simplicity and dependability.
It is an automatic, self acting, self
clearing mechanism which has a
"snap-out"™ feature that enables you
to turn one lever to remove the
mechanism for repair or price change.
Our mechanism also has a built in
penny rejecter and is coated with
super slick after plating for superior operation in wet and freezing weather conditions.